August 26, 2022

Hello Falcon Faithful!
Happy Feast of St. Monica! What a trouper she was. We prayed for her intercession today to help us become saints like she helped her son, Augustine, become a Saint.
St. Christopher School Strategic Growth Plan
I want to extend a huge thank you to the 11 families who helped us reach the $24,000 mark of our $40,000 planning goal! I am amazed by your generosity!
I know many of you are praying for our school and, specifically, this planning project. Prayer is an invaluable gift for which I am also grateful!
I want to extend a broader invitation to all families to participate financially in our planning project. Clearly, we need more donations to reach our goal. Originally, I thought 40 families would donate $1,000 or more. As Amy often reminds me, it's not the first time I was wrong. One parent proposed that we should allow every family to participate financially, regardless of dollar amount, and he was right. So that's my invitation.
I am sincere when I say it is an invitation; it is not a desperate request. When I worked at Merrill Lynch, I cold called people for money. Those were desperate requests. This is not. This is about believing in our mission, wanting it to continue, and participating in whatever way your heart moves you, if at all.
Please keep praying and, if you are able to participate financially at any level, please contact me. Additionally, as the planning process unfolds, there will be plenty of opportunity for you to donate your time, as well.
To learn more about our consultant, ISPD, and the planning process, you can click on THIS LINK and scroll down to the Strategic Growth Planning section.
Thank you!!
Safety & Security: St. Christopher has hired G2G Solutions to perform a security and threat assessment of our campus. They started yesterday and should complete their report in the next two weeks. We will review the assessment and then discuss an implementation plan with them. I will keep you updated on our progress.
St. Christopher School Calendar can always be found on our website.
Youth Ministry registration for 2022-2023 is now OPEN for Grades 6-8. Register today and join together in a fun youth group setting with other area teens from St. Christopher parish and St. John the Baptist parish, every 2nd and 4th Sunday of the month. First meeting is a Parent & Teen Welcome and Info Night on Sunday, Sept. 11 from 6:30-7:30pm at St. John the Baptist Catholic Church in Tipp City. See the attached flyer for more details and to register.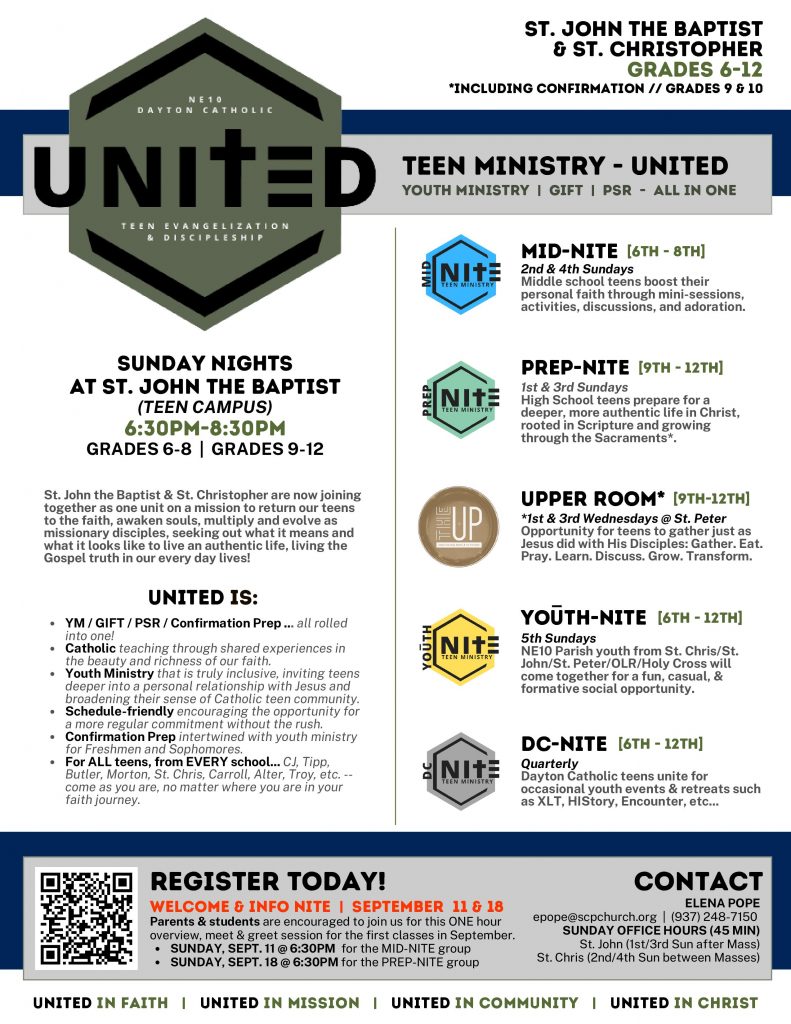 Thank you for helping make St. Christopher School such a blessing for so many people. You are special people and you make this a special place to learn and work.
St. Monica, pray for us!
Have a blessed weekend!
Mr. O'
St. Christopher School Principal
toloughlin@scpschool.org
937.898.5104