September 26, 2023

Hello Falcon Fams!
No School this Friday 9/29.
Parent-Teacher Conferences are this Thursday and Friday.
If you would like to schedule a conference and did not receive a registration link, please contact your child's homeroom teacher.
Conferences are optional, however, occasionally, teachers may request/require a conference with you.
Road Closures: Thursday night from 5:00-6:15PM for Vandalia Butler's Homecoming Parade:

National closed from Helke to Dixie

Dixie closed from National to Vandalia Butler High School
Lunch Accounts:
Starting next week, Monday, October 2nd, our cafeteria will be going cashless.
To set up a lunch account, please CLICK HERE.
Also, please register for Auto-Replenish.  CLICK HERE for details.  We have an usually high number of negative balances this year and that means an extra admin time to manage it.  We know life happens and that is why we offer 2 meals on credit. The meal on credit is a PB&J Sandwich.

You will receive a text when your account goes negative

another text after 1 meal on credit,

a phone call after the 2nd meal on credit

After that, your account will be frozen until you sign up for Auto-Replenish.
Federal Funding & Free/Reduced Lunch Form:
Many of our federal grants are based on our number of free/reduced lunch students. Among other things, we receive federal funding for special education services, remedial reading services, and teacher professional development. These grants only cover a small portion of our actual financial need in these areas, so every dollar counts.
You do not need to accept the free/lunch, we simply ask that you complete the form, if you qualify.
To find out if you qualify, please review the below income table. Example: a family of 4 making $55,500 qualifies.
If you do qualify, please complete THIS FORM.
If you need assistance with the application process, please contact Natalie Doyle, Food Service Director, at ndoyle@stalbertnutritionservice.com.
Your participation in helping us secure these federal funds is super important to the school. Thank you!!
——————–
REMINDERS:
——————–
CYO Basketball Registration (Grades 3-8, Girls & Boys) is open now through October 1st.  REGISTER HERE.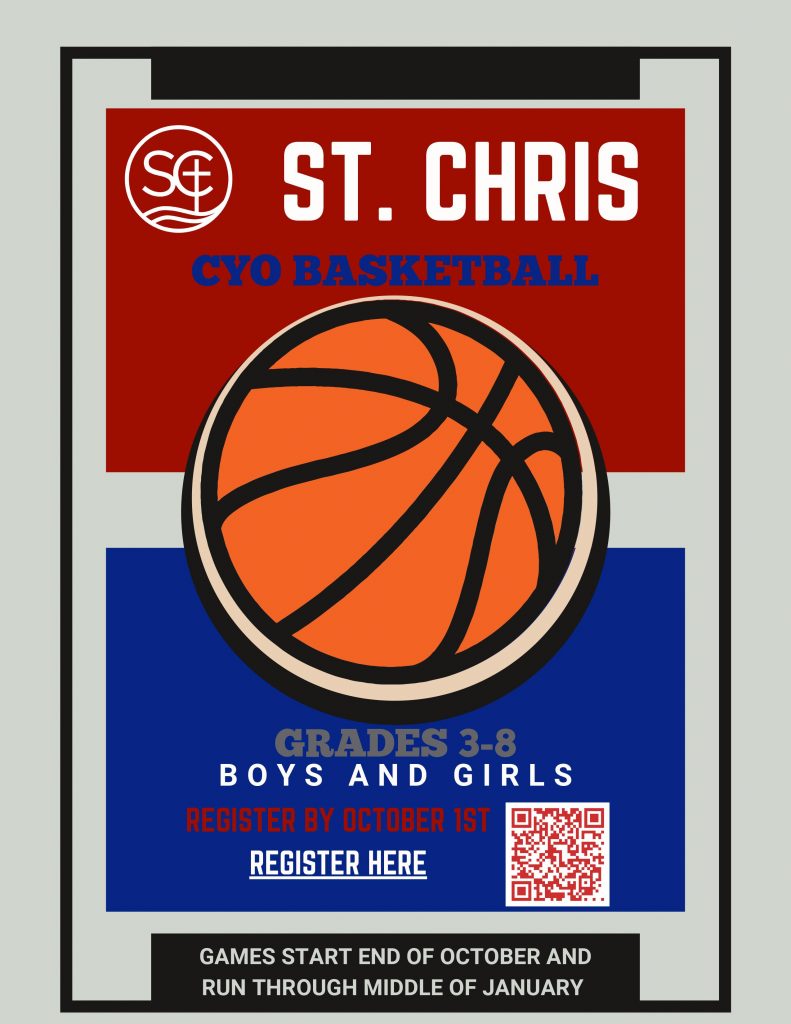 The Fall Gala is the school's largest fundraiser for non-tuition needs.
Saturday, October 21
Tickets can be purchased using this BidPal Link.
We are asking school families to help us with silent auction packages consisting of gift cards and lottery tickets.

Gift Cards: Grades K, 2, 4, 6, 8

Lottery Tickets: Grades 1, 3, 5, 7

Gift cards and lottery tickets can be of any value and are very much appreciated!

Please submit donations by September 29th in an envelope to Mrs. Paulus (1st Grade Teacher)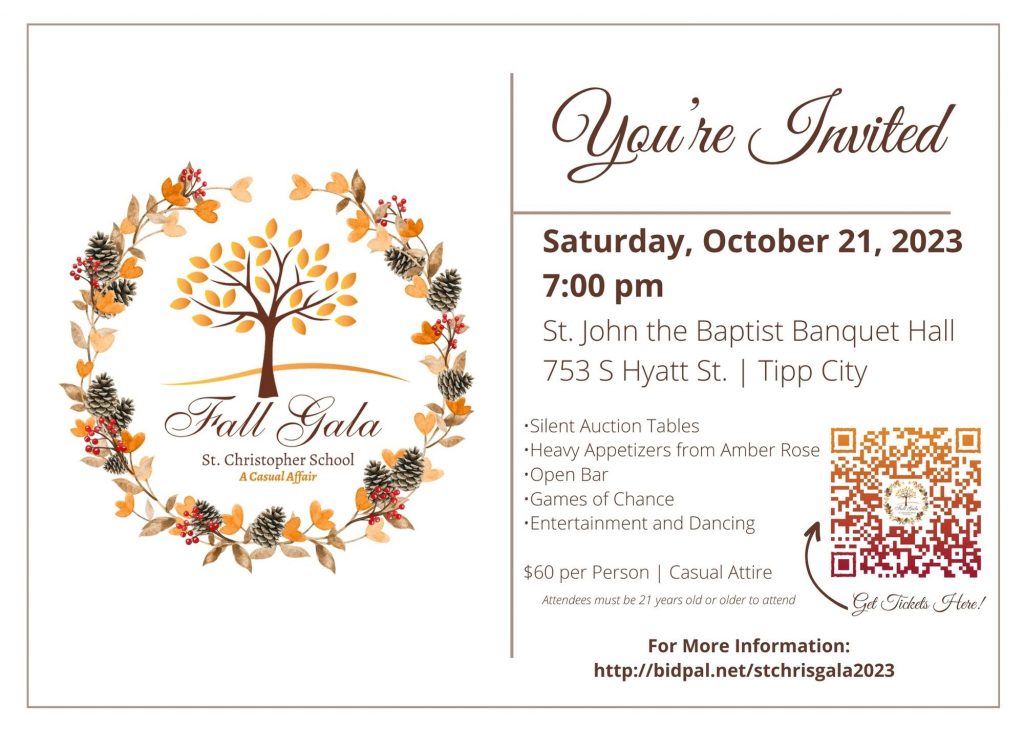 Genesis: CJ's Jr. High A Cappella Group: Does your child like to sing?  Genesis is CJ's junior high a cappella group for grades 6-8. Genesis is a great way to make friendships before high school and grow as a young musician. Rehearsals are held Tuesdays from 6:00-8:00PM starting Sept.19. For questions, please email Angelo Knight. To register, CLICK HERE.
Spirit Wear can be purchased from two different vendors:
Educational Apparel: https://www.educationalapparel.com/shop-by-school/st-christopher-150/

These items can be worn to school by students.

Game-One: https://shop.game-one.com/ohio/vandalia/st-christopher-school   Password: falcons (all lowercase letters)

These items can not be worn to school except for Out of Uniform Days.
Parish Youth Choir
open to grades 2-8
will sing on the first Sunday of the month at the 9:00am Mass and possibly other occasions such as Christmas Eve, Easter morning, First Communion, etc.
first Mass will be Sunday, October 1, 9am.
rehearsals are on Thursdays from 5:30-6:30pm in the church choir room starting on Thursday, September 21.
To register, please email Mrs. Kern.
Volunteers: we still need more recess volunteers. If interested, please email Mrs. Bradley in the school office.
Substitute Teachers: we could also use additional substitute teachers. If interested, please email Mrs. Bradley.
Thanks & Prayers!
Mr. O'
Principal
St. Christopher School
toloughlin@sc.sgfp.org
937.898.5104