Lunch Program
St Albert Nutrition Service – 104 W. Dorothy Lane Dayton, OH 45429 – (937) 293-8217 – Fax (937)281-1940
·  All Saints

·  Ascension

·  Bishop Leibold East

·  Bishop Leibold West

·  Immaculate Conception

·  Mother Brunner

·  Our Lady of the Rosary

·     St. Albert the Great

·     St. Benedict the Moor

·     St. Charles Borromeo

·     St. Christopher

·     St. Francis de Sales

·     St. Peter

·     St. Vincent Ferrer
Welcome to School Year 2023-2024!  Balanced nutrition throughout the day contributes to student success in and out of the classroom!  The Team at St Albert Nutrition Service offers nutritious meals for over 4,000 students at Catholic grade schools in the Dayton and Cincinnati Area. As the cost of food continues to rise, we are dedicated to keeping the cost of breakfast and lunch affordable for our families! Our meals include an entrée, fruit, vegetables, and milk. In addition to the regular lunch menu, we offer a variety of a la carte items that can be made into a complete meal or priced separately. We are proud of the work that we do but could not do it without our amazing team. We have close to fifty dedicated, professional staff members, who have been with us for 1 year up to 30 years! They are enthusiastic about what they do and strive to make a difference in the lives of our students!
Lunch $3.50
Adult Meal $4.00
Milk .60
** Please see our updated website for all things school cafeteria related!  www.sansvs.com 
---
St. Albert Nutrition Service Staff:
Administrative Office: (937) 293-8217
Natalie Doyle – Food Service Director ndoyle@stalbertnutritionservice.com
Kaylin Bryant – Assistant Food Service Director – kbryant@stalbertnutritionservice.com
School Cafeteria Managers:
All Saints – Café Manager – 513.792.4732
Ascension – Angie Harmer – 937.254.5411 ext. 3
Bishop Leibold East – Lynn Gray – 937.434.9343
Bishop Leibold West – Pamela Stier – 937.866.3021
Immaculate Conception Jennifer Berger – 937.253.8831
Mother Brunner – Sharry Robinson – 937.277.2291
Our Lady of the Rosary – Barb Moore – 937.222.7231
St. Albert the Great – Monica Bush – 937.293.8217 ext. 226
St. Benedict the Moor – Paula Brown – 937.268.4124
St. Charles Borromeo – Tonya Skipper – 937.401.2590
St. Christopher – Shelby Holman – 937.898.5104 ext. 126
St. Francis de Sales – Marianne Thomas – 513.932.6501
St. Peter – Josh DeVaney – 937.233.8710 ext. 121
St. Vincent Ferrer – Café Manager – 513.791.6320
---
Lunch Accounts: From the "Manage Your Account" link on the website www.sansvs.com you will be able to access your student's account balance and purchases; all you need is the child's pin number (this is obtained from their school) to set up their PaySchools Central account. When registering for the account, all schools select "St Albert the Great – Dayton". There is no charge to view your student's balance; however, there will be a small fee for making a credit card payment on the website. You can add funds through the website, or you can make a payment by sending cash or check, before lunch, to your school cafeteria. Money cannot be accepted during the lunch line. Please put payments in separate envelopes with your child's name and pin number.
Negative Balance: When students have no money or not enough money for lunch or breakfast, they will be permitted up to two meals in a negative balance. After that point, the student will receive a PB&J or cheese sandwich and will be charged $1.50 when the lunch account is replenished.

Note: during the last four weeks of school, students will not be permitted to incur a negative balance
Free and reduced meal applications: Families that qualify can receive free or reduced-price meals, and ALL families are encouraged to apply. The application and instructions are on our website at www.sansvs.com. For the quickest response, please email applications to applications@stalbertnutritionservice.com. Applications must be completed every school year and must be submitted no later than September 15. 2023 for the 2023/2024 school year. Additionally, transfer students will need to apply, even if they had an approved application at their last school.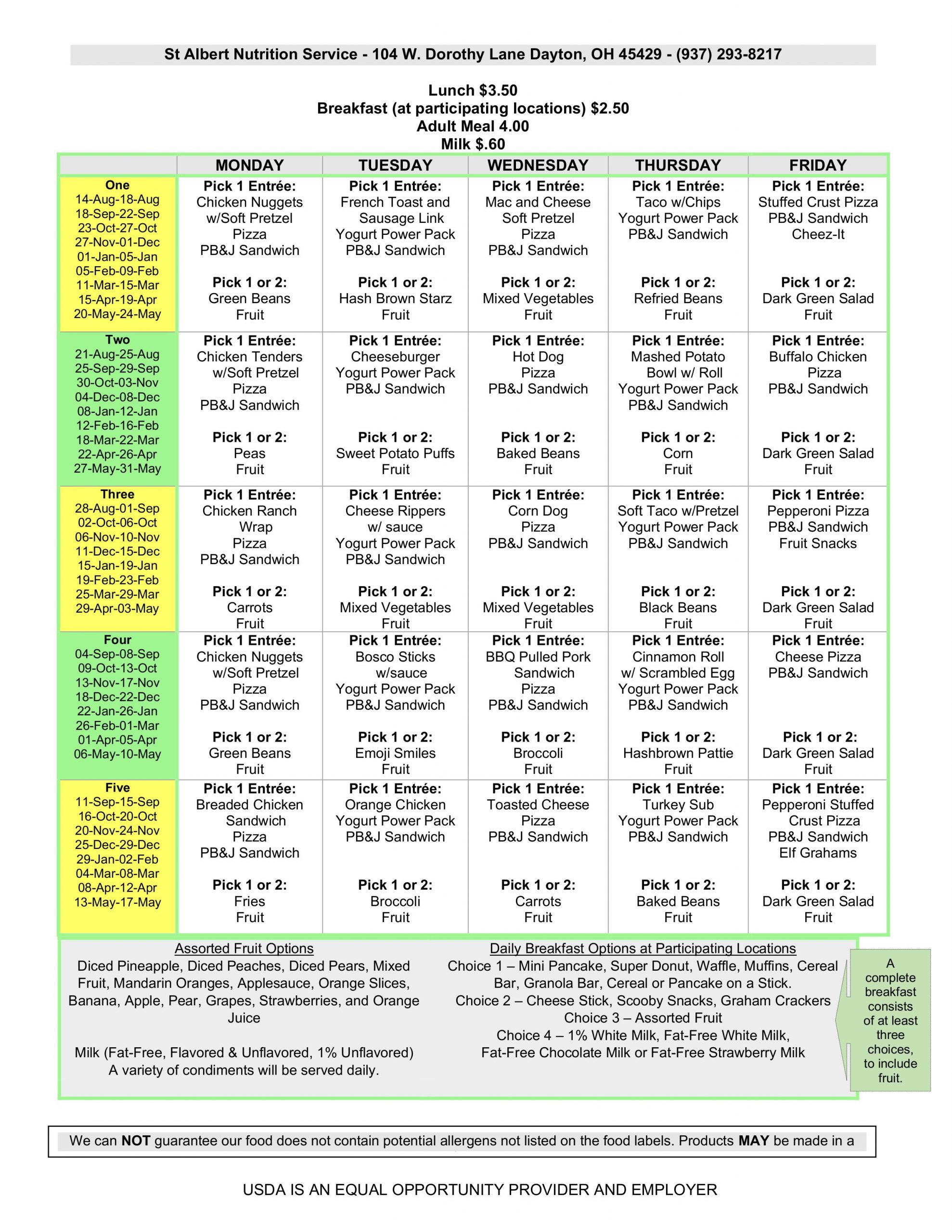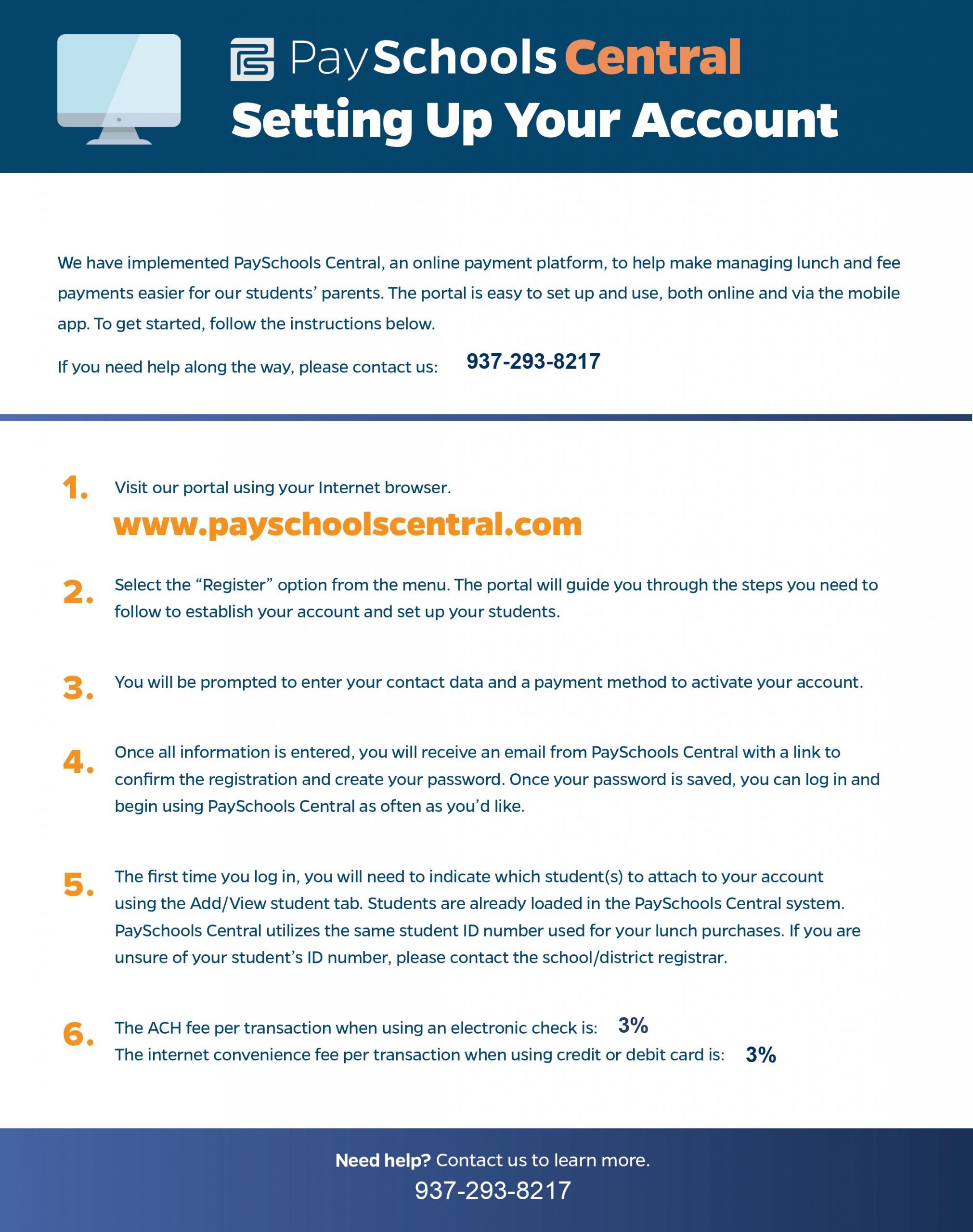 IMPORTANT NOTES:
When choosing a school, choose St. Albert the Great – Dayton  (St. Albert Nutrition Services runs the cafeteria)
How to find the Student ID Number:
Log into your FACTS Family Portal (www.factsmgt.com)
 FACTS Family Portal – District Code – SCV-OH
 Once in FACTS Family Portal –
Left Hand Side Choose Family
Top of screen says Family Members and a drop down list in the middle of the screen
choose the child
ID Number System – should be a 5 digit number
If still having problems or questions, please call 937-293-8217 (St. Albert Nutrition Services)